Full-Service And/Or Self-Service Options Available For On-Site Registration & Badge Pick Up
Give attendees the option to handle their own registration and badge pick up with our Island Pod set up. The Island Pod lay-out consists of several kiosks grouped together that allows attendees to simply scan a barcode from their registration confirmation e-mail to receive their badge in as little as 5 seconds per person. They can also register without a typist and pay securely by credit card without a cashier. Our Island Pod still has a handy staff member available for any questions as well. Or if you want to provide a full-service registration set up, we can use our In-Line Pod design. The In-Line Pod is a more traditional registration set up with trained typists and cashiers to handle on-site registration, payment, and badge pick up.
Photo Show Solution
The IRIS Photo Show Solution is unique in that it can provide the ability to deliver photo reports, photo directories, and most important, photo leads for exhibitors. Our photo Badges are printed onsite and can also provide added security at your show.
Learn More...
On-Site Registration Lay-Out Designed For Speed And Service
Your dedicated event team partners with you to design effective registration layouts that enable efficient and prompt on-site registration, badge and ticket pick up. Crowd control using the minimum amount of staff, space, and equipment is our responsibility. Our goal is to save you money while also keeping attendees satisfied! We are also able to set up remote registration locations via a network in various areas of hotels and convention centers.
Targeted Badge Sponsorships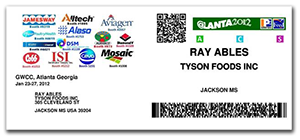 Targeted Sponsorship Badges from IRIS provide exhibitors with an easy, efficient and cost effective way to get their company in front of selected qualified attendees.
Learn more...
eBadge Express
Cut wait times at the registration counter with eBadge Express!
Accurate On-Site Payment Processing For Cash, Check or Card
Attendees can easily upgrade or add services and pay the difference at your event. Our experienced Cash Managers reconcile daily all on-site cash transactions for you.
Professional Set Up And Testing Of All Equipment Before Event Opens
IRIS brings in an entire crew of trained professionals to your event to set up and test all equipment ahead of time, so you can worry about more important things.